A few people live here. Most of them reside here, though there are occasional short term visitors. A few old granite cottages have been restored, with plumbing and power installed, and we have a caravan for summer (or hardy) visitors. You can Read about The Cottages here, and if you would like to come for a holiday escape or to live here, let us know.
We have a dream ...
Can a village have a lower impact on nature than modern commercial agriculture? We think so. Click to find out about our

. which might one day become a reality. Wouldn't that be cool?!
We recommend Linda Moss's Organic Places to Stay, Responsible Travel and Sustainable Tourism Ireland.

There's always plenty do do around here, tending the garden, logging or clearing the woods, maintaining buildings and wall. If you would like to find out what it's like please let us know. Nothing here is going to yield a living wage, but you might find out a bit about how nature works or even find yourself.If you would like to join our nature club, please contact us. We manage all land naturally - no chems and lots of hard work! See the garden section here.
Sometimes people even get married here, but that's about communing with nature as much as having a party ...
There are some fun things to do around here.
The woods were once designed as pleasure gardens with many exotic rhododendrons and bluebells planted throughout. There are paths and ditches and dykes built by hand which allow access. Right in the centre is an Asian water garden rediscovered recently.
The River Slaney at the edge of our woods, used to be one of the fastest rivers with the best spring salmon catch in Europe. That was 100 years ago and today we encourage anglers to enjoy the river, but leave the fish alone. Anglers are the last protection against urban and industrial pollution of the Slaney water basin.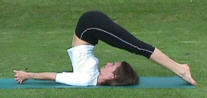 Read about fishing at Ballin Temple (only permitted under special circumstances. Nature Club membership required)

The Eastern Region Fisheries Board has information about permits, fisheries etc.