Angling Notes
Derek Evans
It was a dull and overcast morning when I met Robin Harvey, rated occupier of the Ballin Temple Beat and Kilbride Beat on the River Slaney, Co Carlow. We were there for a day's fishing on this most exclusive of beats on the prolific salmon river.
I could see the river was in great shape after the recent rain, and had that golden brown look, ideal for salmon fishing.
Ballin Temple is owned by the Butler family. Sir Richard Butler took control some years ago and, with his friend Robin, the two set about restoring the banks and rebuilding the weirs. Within eight weeks they created 24 pools.
The area is designated as a Special Area of Conservation (SAC) and presently has otters, kingfishers, dippers, wagtails and a good mayfly hatch. Mink are a problem, as they devastate our wild life and fish stocks, Harvey said.
The Ballin Temple stretch is 2.75 miles long and accommodates 28 rods (four per day), while the Kilbride stretch is 1.5 miles and has 24 rods. It is strictly fly-only after March 31st.
As we walked the Ballin Temple beat, Harvey explained the history attached to each of the 24 named pools. "This one is called the Ladies' Pool because one hundred years ago the ladies from the manor swam here," he said. The Horse Pool, so named because of the large rock in the middle of the pool, shaped like a horse. Robin's Folly, named after Harvey himself, and so on.
I came well prepared with my new intermediate line and box of salmon flies. I put up a size eight double thunder and lightning and tried the Sally Well and Rhododendron pools without success.
I then moved downstream to the Thornbush pool and all hell broke loose. The salmon charged for the opposite bank, then rolled over, changed direction and bolted downriver at astonishing speed.
All of 25 minutes later and exhausted, I managed to bring the fish to the landing net and, eventu­ally, onto the bank. My first salmon on a fly, a wild Atlantic fish of 9.41b, in pristine condition with bright silver flanks.
Ballin Temple Lodge and two self-catering cottages are available to rent. For further details, contact Robin Harvey at eustaceharvey AT eircom.net.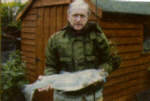 Derek Evans, with his first salmon on fly, from the Ballin Temple beat on the River Slaney, Co Carlow. The fish weighed 9.41b and fell to a thunder and lightning fly
Email: anglingATirish-times.ie