History, Genealogy & Culture
Thanks to Turtle Bunbury for this extract from "Lewis's Topographical Directory of Ireland" Also see his "Ballin Temple: Dark Knights, Blue Bells".
PUBBLEDRUM, a parish, partly in the barony of RATHVILLY, but chiefly in that of FORTH, county of CARLOW, and province of LEINSTER, 2 miles (E.)from Tullow, on the road to Clonegal; containing 1211 inhabitants.
It comprises 4503 statute acres, of which nearly one half consists of woodland, and the remainder, with the exception of about 240 acres of bog, is arable land: the state of agriculture is improving. Limestone abounds and is burnt for manure, and fine granite adapted for building is also found. It has been for several centuries the seat of a branch of the ancient family of Butler, and contains Ballintemple, the residence of Sir Thomas Butler, Bart., and Broomville, of Jas. Butler, Esq.
At Blacklion is a station of the constabulary police.
In the Ecclesiastical divisions It is not known as a parish, but is considered to form part of the parish of Barragh, in the diocese of Leighlin; and in the R. C. divisions it is partly included in the union or district of Tullow, and partly in that of Gilbertstown, the chapel is at Ardattin.
At Ballintemple are the ruins of an old church, beautifully situated on the margin of the river Slaney.
The Name "Baile An Teampaill"
Baile An Teampaill, the original Irish naming of Ballin Temple, means Settlement Sanctuary/Temple.

We believe there are the ancient remains of a church on the wooded cliffs near the river, although positive identification has not been made and only a few granite blocks have been found; this may have been related to the place name.
The origin of the name is lost in the mists of time although it is derived from an ancient Irish name and has been used to describe the local demesne for centuries.
Back to top.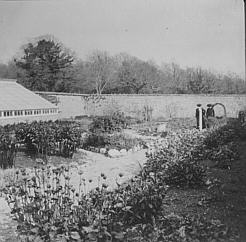 The Old Estate
Ballin Temple was a large, family run agricultural estate employing many people until the early 1900s. The family member managing the business would have acquired relevant training and qualifications in every generation from late 1700s to mid 1900s. Considerable resources were committed to the enterprise, for example, heated greenhouses producing tropical fruits, employment of qualified people, introduction of new technologies including mechanisation and plant varieties. The woods of oak, ash, cherry, hazel and other timbers were coppiced to produce a range of useful materials which were turned in to tools and equipment. The estate could boast a wide selection of produce as well as self sufficiency for all employed.
Please see the picture archive for a trip back in time - photos from 1890- 1906. And there is an interesting record of people on the estate by Morris Hope reproduced here.
Recent History
The last person to be born at the old house was Sir Thomas, the twelfth baronet, in 1910. His father had recently inherited a new and growing estate built up by Sir Thomas's grandfather, a highly and well regarded member of the community, who had died in 1909. The family, still in mourning after Sir Thomas's grandfather's death, would have been overjoyed to welcome a new child.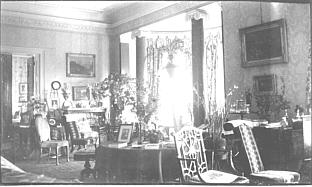 Sir Thomas was born in to a family with wide responsibilities and enjoying a fulfilling home. The family was perennially involved in local politics representing interests at state level and with a record of military service. The home was made lively by a range of pets, rural enterprise was persued agriculture, forestry, horticulture, fishing, shooting and so on, a library and new technology enabled variety and novelty. The 7,000 acre farm directly supported over 20 families and provided business for others.
However, the estate was suffering. State levied death tax was threatening disintegration of the farming estate. Nevertheless, Sir Thomas' father would have been using all resources to maintain the livlihood of those supported by the enterprise.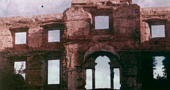 Soon after Sir Thomas was born, the house was destroyed by fire, as were many other estate houses in the period from about 1890 to 1930. This, combined with the openly tense political climate, encouraged Sir Thomas's father to move to temporary accommodation while he tried to put his family's life back together.
Unfortunately, the agricultural enterprise was put under further pressure when large parts were subject to confiscation/nationalisation under various Land Purchase Acts of 1881 to 1923. The Land Commission, which Sir Thomas's grandfather had helped set up (to fix fair rents where disputes existed between landlords and tenants), was now engaged in forced purchase of land from farmers and redistributing land ownership among tenant employees of the previous farm businesses. (Somewhat analagous to Bill Gates's shares in Microsoft being confiscated and parts of the company being given to employees!)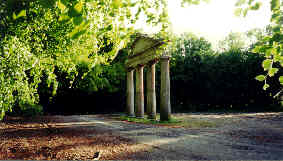 When Sir Thomas inherited responsibility for the estate it was disintegrating as an operating enterprise, reduced to about 1,000 acres, suffering from lack of management and again subject to death taxes. It was caught up in the winding up of the Land Acts as purchase orders completed and paperwork was finalised 40 to 60 years after the original nationalisation. The "farm" had now shrunk to virtually nothing. Even the remains of the old house and the plot on which it had stood had been sold to the state to pay debt on the estate.
Challenges for the Future
Since the 1970s gradual efforts to retain and rebuild Ballin Temple have been made. We are on a course of natural and economic sustainability. There are many challenges:
agriculture rarely demonstrates an attractive economic return and agricultural subsidies make planning and competing almost impossible.

enterprise often requires high traffic which may destroy the natural environment - residents and visitors should respect nature.

the land and infrastructure require significant investment of resources to be brought to a commercial standard

global economic pricing currently rewards destructive rather than sustainable consumption patterns.
But, knowing the challenges and valuing the need to preserve these natural resources for the sake of the future motivates us to preserve this beautiful place, share it with those that appreciate it and learn from its history.