Ballin Temple
Salmon and Trout Fishing
Please note that conservation measures are in place and
Irish government regulations restrict fishing on the Slaney.
Information is available from Eastern Region Fisheries Board and Slaney River Trust. .
Waterlog Magazine, August/September 2004 article on Ballin Temple.
Go here for Irish Angler article on River Slaney 16 April 2004 launch issue. (Includes report of useful flies and Ballin Temple beat.)
Go here for Irish Times angling report on Ballin Temple 9 June 2003.
Go here for Country Illustrated article on spring fishing,
showing the Ballin Temple beat and tea hut.
Eastern Region Fisheries Board introduction to the River Slaney.
Introduction
In the late 1800s the River Slaney was known as one of the best salmon fishing rivers in Europe. Ballin Temple's private beat still offers some of the most picturesque fishing in Ireland. The Ballin Temple fishing beat is on a beautiful 3 kilometre stretch of the River Slaney in a Special Area of Conservation.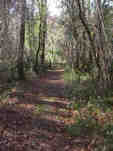 The river banks are maintained in the summer and the ancient woods bounding the river offer examples of rare flora and fauna.
Fishing starts on 10th March, subject to change by the government. The best salmon fishing is from March to May. Brown trout can be had throughout the summer but are rather small early in the season. Fly-fishing only from 1st April onwards. The season ends on 31st August for both salmon and trout.
We limit the number of rods to 6 per day on the Ballin Temple beat, to avoid overfishing. Catch and release is encouraged, chest-waders are discouraged and only one salmon per rod per day is to be kept.
Ballin Temple Cottage Anglers
Guests staying at Ballin Temple cottages have a 10-minute walk to the river or can drive to within 50 metres. Guests may avail of a resident's discount on Ballin Temple fishing fees.
Prices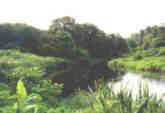 A rod for a day on the Ballin Temple beat is € 30 - 50 depending on the season, a rod for a week may be reserved for € 180 - 300.
Resident guests may avail of a 20% discount subject to rods being available.

Experienced ghillies are available, at a rate to be agreed with the ghillie, and can be of great benefit for those unfamiliar with the river.
A current state fishing license is required and may be obtained for € 25 for the season at O'Connor's newsagent in Tullow. It applies to Eastern Region fishing waters.
Contact
For further information or bookings please email gardener AT ballintemple DOT com or telephone + 353 (059) 915 5037. Thank you.