Ballin Temple Cottages
Introduction
Ballin Temple is a private estate and guests can enjoy a quiet escape here. Ballin Temple cottages are ideal for sporting holidays, a romantic rendezvous, family breaks or to escape the urban jungle. Please also see suggestions for group retreats here. All accommodation are refurbished homes offering a relaxed, comfortable atmosphere. We are within a few hours of Europe's capital cities and all guest rooms are within a few minutes' walk of the River Slaney and Ballin Temple's ancient woods.
Inside The Cottages
Ballin Temple's cosy guest cottages are beautifully situated with panoramic south facing views of Mount Leinster. The cottages were originally built around 1850 to accommodate families working on the farm. These traditional cottages were saved from dereliction and rebuilt and refurbished since 1998 to offer modern comfort and convenience. Plumbing and electricity are the most important additions!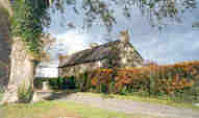 Each cottage has a main double bedroom and a small single bedroom, a full bathroom, kitchen/dining room and living room with fireplace or stove. Additional beds may be made up in the living room.
Each cottage accommodates 3 people comfortably and with additional beds can sleep up to 5. Two adjoining cottages may be combined by opening a downstairs connecting door to sleep 6-8.
Cottages are equipped with bed and bath linen, kitchen and dining equipment. Basic provisions are supplied and additional supplies may be bought at the villages nearby, or during harvest season, directly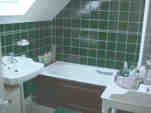 from our farm. The pure, fresh water comes directly from artesian sources.
Click here for a photo tour of a cottage ...
The views are fantastic. The cottages offer panoramic views across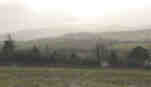 the valley of the River Slaney to the Blackstairs mountains. Dominating the vistas is Mount Leinster, one of the highest peaks in Ireland which you can reach in less than an hour's drive from Ballin Temple.
Contact
For further information or bookings please e-mail: cottages AT ballintemple DOT com or telephone +353 (0)59 9155037. Other contact details are here. Thank you.