Bean Recipes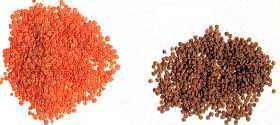 Apricot Lentil Soup
1 onion, chopped
2 cloves garlic, minced
1/3 cup (80 ml) dried apricots, chopped
2 stalks of celery, chopped
1-1/2 cups (360 ml) red lentils
5 cups (1 liter + 240 ml) stock
14 ounce (395 g) can of diced tomatoes, juice included
1/2 teaspoon dried thyme
salt to taste
ground black pepper to taste
1 cup (240 ml) diced carrots
Saute onion, garlic, celery, and apricots in olive oil. Add lentils and stock. Bring to a boil, then reduce heat and simmer 30 minutes.

Stir in tomatoes and juice, and season with thyme, and salt and pepper to taste. Simmer for 10 minutes, or until lentils are tender.

Puree lentil mixture in blender, and return to pot. Add diced carrots, and simmer gently until carrots are cooked, yet still slightly firm. The contrast in textures is what you are looking to achieve. Makes 8 servings.
92 calories per serving
23 g carbohydrate
8 g fiber
1 g protein
Vitamin A 48%
Vitamin C 16%
Calcium 1%
Iron 15%
Bean Ragoo
Serves 10
1 cup (240 ml) dried Good Mother Stallard* beans, washed and sorted
1 cup (240 ml) dried Cannellini beans, washed and sorted
1 3-inch (7.5 cm) piece Kombu*
1 cup (240 ml) dried Persian lentils, washed and sorted
1/2 package (4 pieces) Yves breakfast link sausages, diced
6 cups (1 liter + 480 ml) veggie broth or water
3 stalks celery, diced
1 onion, diced
2 cloves garlic, minced
1 fresh eggplant, diced
1 14-ounce (395g) can diced tomatoes, with juice
1/2 tsp ground cinnamon
1/4 tsp ground turmeric
1/4 cup dark raisins
salt and pepper to taste
Place washed and sorted beans in crockpot. Cover with water and add Kombu, soak overnight. In the morning, drain soaking water.

Add washed and sorted lentils, veggie broth or water, celery, onion, and garlic. Cook on "high."

When beans are tender, broil eggplant and sausages until golden brown. Add to crockpot with tomatoes and juice, seasonings, and raisins. Continue cooking until eggplant is soft and sausages are tender.
This soup freezes beautifully.
Enjoy, enjoy, enjoy!
*use other "fancy" beans if not available.
Nutritional information, per serving:
255 calories total
70 calories from fat
7 g fat
620 mg sodium
39 g carbohydrates
19 g fiber
19 g sugars
19 g protein
6% Vitamin A
9% Vitamin C
2% Calcium
12% Iron
Quick 'N' Tasty Beans
With the complexity of bringing together a festive meal, you will appreciate the simplicity of this dish that has hidden rewards. The earthiness of the garlic, cooked briefly with the tomatoes, adds such pleasing flavors you'll welcome this easy recipe into your repertoire.
1 3/4 lbs. (790 g) Roma tomatoes (Italian plum) chopped
6 cloves garlic, minced
1/2 C. (120 ml) water

2 1-lb. (450 g) cans black beans, drained and rinsed
Salt and pepper to taste
Combine tomatoes, garlic, and water in a large skillet, and cook over high heat, stirring frequently, for 5 minutes.

Add beans to skillet, season to taste, and cook 5 to 6 minutes. Adjust seasonings if needed. Serves 6.
Sprouted Garbanzo Hummus
2 1/2 cups (600 ml) sprouted garbanzos
1 1/2 cups (360 ml) raw tahini
1/2 cup (120 ml) fresh lemon juice
1/2 cup (120 ml) purified water
1/2 cup (120 ml) chopped parsley
2 tablespoons minced garlic
1/2 tablespoon sea salt
1 teaspoon ground cumin
3/4 cup (180 ml) Bariani's stone-pressed organic extra virgin olive oil
Combine all ingredients in a food processor and process to desired consistency. Longer processing will produce a smoother consistency.
Hearty Lentil Soup
3 cups (720 ml) Almond Milk
1 avocado
3 tablespoons minced garlic
3 tablespoons minced onion
1/2 cup (120 ml) diced bell pepper
3/4 cup (180 ml) chopped tomato
3 tablespoons fresh dill
1 teaspoon sea salt
1/2 cup (120 ml) extra virgin olive oil
1 cup (240 ml) water
3 cups (720 ml) sprouted lentils
Blend all ingredients except lentils in a VitaMix or blender. Stir in lentils and serve. Serves 5.
Zesty Black Bean Patties
1/4 C. (60 ml) raw, unsalted sunflower seeds
1/4 C. (60 ml) raw walnut pieces

1 small onion, quartered
2 to 3 T. water

2 C. (480 ml) cooked, drained black beans*

1/2 C. (120 ml) oat bran (uncooked)
1 t. salt
1/4 t. garlic powder
1/4 t. ground black pepper
3/4 t. ground cumin
3/4 t. ground coriander
3/4 t. chili powder
2 to 3 T. water as needed
Combine sunflower seeds and walnuts in the work bowl of a food processor and process until finely ground. Turn out into a large mixing bowl and set aside.

Pulse chop onion in the food processor until diced. Transfer to a skillet, add water and cook until soft, about 5 minutes. Return to processor.

Measure 1/2 C. (120 ml) of the rinsed and drained black beans, and add them to nuts in mixing bowl. Put remainder into processor with onions.

Add remaining ingredients to processor and process until well blended. Add to bowl with ground nuts and mix well.

Lightly oil a baking pan and drop patties from a large spoon. Flatten slightly so they will bake evenly.

Bake at 400 F (Gas Mark 6) for 12 minutes. Turn the patties with a metal spatula and bake 10 minutes longer. Makes 9 to10 very tasty patties.

*1 1/2 one-pound (450 g) cans of drained black beans will give you the 2 cups (480 ml) needed
Tofu Tomato Fondue
2/3 C. (158 ml) finely minced onions
1 lb. (453 g) fresh tomatoes, diced
1 T. extra virgin olive oil

1 12-oz. (340 g) pkg. soft silken tofu
1/4 C. + 2 T. (89 ml) unsweetened soymilk
3 T. nutritional yeast flakes
1 t. salt

2 T. cornstarch
2 T. water
Combine onions, tomatoes, and olive oil in a 2-quart (2 liter) saucepan. Cook over medium-high heat for about 10 minutes, stirring frequently, until soft and broken down.

Add tofu, soymilk, nutritional yeast, and salt and stir with a wire whip to make a smooth fondue.

Combine cornstarch and water in a small cup and stir until smooth. Add to bubbling fondue a little at a time until thickened to desired consistency.

Serve some of the fondue in small bowls and keep the remainder warm over low heat. Makes 4 servings.
Prepare a platter of raw finger vegetables along with lightly steamed vegetables to dip into the fondue. To round out the meal, serve with salad and cooked grains such as brown rice, barley, or quinoa.
SUGGESTIONS FOR RAW VEGETABLES: carrot sticks, celery sticks, daikon radish strips, bell pepper strips, zucchini sticks or rounds, jicama sticks, red and green cabbage wedges, beet sticks, radishes, anise wedges, turnip rounds, rutabaga rounds, kabocha squash sticks, asparagus spears, fresh green beans, Jerusalem artichokes, kohlrabi slices, broccoli florets, cauliflower florets.
SUGGESTIONS FOR STEAMED VEGETABLES: Asparagus spears, green beans, Brussels sprouts, broccoli florets, cauliflower florets, artichoke hearts, beet slices, winter squash cubes, rutabaga slices, roasted eggplant cubes, zucchini, yellow crookneck squash.
Dilled Garbanzo Fondue
1 1-lb. (450 g) can garbanzo beans with the liquid
2 large cloves garlic, whole
1/4 t. freshly ground black pepper
1 t. dried dill weed
1/2 t. ground nutmeg
1/2 t. salt or to taste
5 oz. (140 g) (approximately 1/2 pkg.) firm silken tofu
1 t. lemon juice
1 T. extra virgin olive oil
Put all ingredients into the workbowl of a food processor, and process until coarsely or thoroughly pureed, as desired.

Transfer to a 2-quart (2 liter) saucepan and warm gently over medium heat.

Serve with whole-grain bread or pita, raw vegetables, and steamed tender-crisp vegetables. Serves 2.

For a family or company presentation to serve 6, triple the recipe. Transfer the warmed fondue to a tureen, and serve bowls at the table to ladle out each serving.

Arrange a platter of raw vegetables, a platter of steamed tender-crisp vegetables, and a basket of breads to serve at the table. Below are some vegetable and bread suggestions:
Bread Basket:
Whole wheat pita

whole wheat English muffins

rice cakes

whole wheat bread

whole rye bread

multi-grain bread

whole wheat or oat bran bagels
Raw Vegetable Platter:
Bell pepper strips using red, yellow, orange, and green bell peppers

Tomato wedges

Carrot sticks

Celery sticks

Jicama sticks

Turnip sticks

Cauliflower and broccoli florets

Daikon radish spears
Steamed Vegetable Platter:
Broccoli florets

Cauliflower florets

Asparagus spears

Green beans

Brussels sprouts
Stacked Polenta
1 medium eggplant, sliced 1-inch (2.5 cm) thick
2 medium zucchinis, angle sliced 1/2-inch (1 cm) thick
3 medium onions, sliced 1/4-inch (.5 cm) thick
Salt and pepper to taste

3 1/2 C. (840 ml) water
1 C. (240 ml) rich soymilk
1 1/4 t. salt
1 C. (240 ml) medium-coarse cornmeal or cornmeal labeled polenta
2 T. nutritional yeast

1 1/2 lbs. (680 g) tomatoes, chopped
Salt and pepper to taste

1 lb. (450 g) vegan mozzarella cheese, cut into 12 slices
Garnish (optional)
4 chopped green onions
1 C. (240 ml) finely shredded purple cabbage
Preheat oven to 375 F. (Gas Mark 5). Lightly oil 3 baking sheets.

Arrange eggplant and zucchini on one baking sheet, and the onions on the other. Sprinkle lightly with salt and pepper. Bake at 375 F. (Gas Mark 5) for about 25 to 35 minutes or until fork tender and lightly browned. The third baking sheet is reserved for the polenta.

While vegetables are roasting, heat water to boiling in a 4-quart (4-liter) saucepan. Add soymilk, salt, and cornmeal, and simmer gently over medium heat, stirring frequently with a wire whip, for about 10 minutes.

Add nutritional yeast and continue cooking, stirring occasionally, until mixture reaches the consistency of very thick oatmeal, about 15 to 20 minutes. Pour out onto the third baking sheet, spreading to a 10-inch by 12-inch (25 by 30-cm) rectangle. Chill until ready to assemble.

Put tomatoes into a deep skillet and sauté over high heat for about 3 or 4 minutes. Season with salt and pepper and set aside.

ASSEMBLY: On a clean baking sheet, arrange the polenta cut into 6 even servings. Place eggplant slice on top of polenta, slightly askew so polenta is visible.

Layer next with zucchini slices, then sliced onions, then top with cheese.

Cover with plastic wrap and refrigerate until ready to serve.

TO SERVE: Warm tomato sauce. Remove plastic from polenta stack, and place under the broiler for about 3 minutes or until cheese melts.

Pour tomato sauce over cheese and sprinkle with chopped green onions. Garnish plate with shredded purple cabbage. Serves 6.